In partnership with The Ramblers, we have a coordinated programme of led walks that are available across the county. Wellbeing Walks is a developing programme and over the coming months, we aim to increase the number of volunteer walk leaders and walking opportunities to try and ensure that there is something for everyone.
'The Ramblers Wellbeing Walks goal is for everyone to have access to a friendly, short, group walk, within easy reach of where they live, to help them become and stay active.'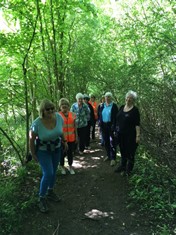 Being physically active is good for both mental and physical health and walking is a great way to get out and get active. It provides opportunities to chat to others, to explore our communities and most importantly, it makes us feel good!
To find out what walks are happening in your area, use the search tool here
https://www.ramblers.org.uk/go-walking/wellbeing-walks
or contact your district coordinator.
Volunteering:
We rely on volunteers to lead our walks. If you feel you could offer some time and you are interested in becoming a walk leader, please contact your district coordinator.
---