Are you looking after someone but want to get healthier?
Caring can be very rewarding, but we understand it can have a detrimental impact on your own health as it becomes easy to neglect your own health and wellbeing.
Our Carer Health Trainers have both professional and personal experience in caring and is aware that keeping yourself healthy can be very difficult when caring for somebody, which is why they're here to help you put your health and wellbeing first again so you can stay healthy to do the best for your loved ones.
How will my Carer Health Trainer help?
With this service, you will be assigned your own Health Trainer who will work with you to set realistic health goals and offer support, advice and understanding every step of the way.
Over 6 sessions of support scheduled at a convenient time for you, you and your trainer will work in partnership and develop a bespoke plan that is tailored to your individual lifestyle and goals to support you in making healthy lifestyle changes that you can keep up beyond the service. Our Carer Health Trainers can help you with many elements of your health such as:
Healthy eating
Losing weight
Increasing physical activity
Reducing stress
Who can get healthy with us?
Any family carers who are looking after somebody with long term illness or dementia who lives in Cambridgeshire or Peterborough
Or registered with a GP in Cambridgeshire or Peterborough
How to sign-up
If you would like to discuss your eligibility or talk to a member of our team about the service, please contact us on 0333 005 0093 or text 'Healthyu' to 60777. There are no charges to call or text.
---
Meet our Carer Health Trainer, Sue!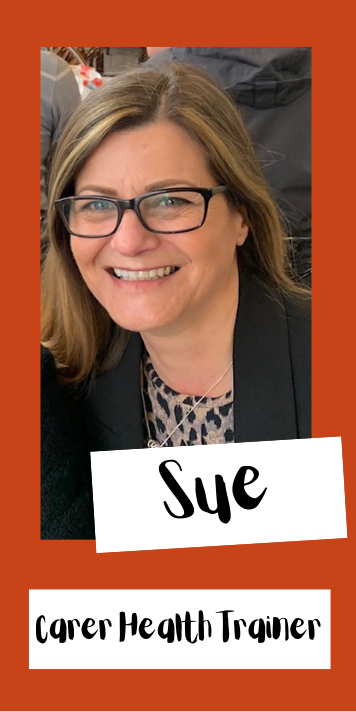 Hello, I'm Sue, the Carer Health Trainer for Healthy You.
A little bit about me – I have over 20 years of personal experience in caring. As I looked after both my parents, I know firsthand how caring can take over all aspects of your life and finding the time for anything else can be difficult. With hindsight, I now know, I should have taken the time to look after myself both physically and mentally – you cannot drink from an empty cup! It's not being selfish but it enables you to stay healthy to do the best for your loved ones.
I have also worked in carer support roles for Cambridgeshire County Council, Alzheimer's Society and Caring Together, along with 6 years' experience as a care manager. Carers have always been at the heart of my career choices.
This service is not about joining a gym or running a marathon, it's about supporting you to have a healthier lifestyle by setting targets and goals to make healthier changes so that it becomes natural. I will support you to this for up to a year with 6 sessions which will be scheduled at a convenient time for you. The changes could be about healthier eating, increasing how much you move, losing weight or reducing stress.
---
Alternative help available:
Caring Together is a leading charity supporting carers of all ages across Cambridgeshire, Peterborough and Norfolk. They provide information and advice, run services in our local communities and campaign so that carers have choices. A carer is anyone, including children and adults, who looks after a family member, partner or friend who needs help because of their illness, disability, a mental health problem or an addiction, and cannot cope without their support. Caring Together is a network partner of Carers Trust and has grown significantly over the past ten years, providing more services and more help for family carers and their families across Cambridgeshire, Peterborough and Norfolk.
They are the leading local fully Care Quality Commission compliant organisation providing respite care specifically for family carers. You can find out more about what is available to you by calling their specialist carer services team on 0345 241 0954 or you can email [email protected].